5 Ways to Save Money on Kids Birthday Parties. Scroll here for some great tips on ways to save money on your kids birthday parties!
I realize this may be a little counter-intuitive for a cake decorator to be telling you how to save money, especially when I've also said most cake decorators need to be charging more, but here I am anyway... telling you 5 Ways to Save Money on Kids Birthday Parties.
Why? Because I'm cheap and I live on a budget and I have six kids... and I have all kinds of reasons to keep our birthday party expenses as low as possible!
Are you ready? Here are 5 things that I personally do to keep our birthday party expenses low.
1. Save on the cake! One of the most expensive thing at a party can be the cake. To save money, bake it yourself! Obviously, I make my kids cakes myself, but even though I *can* make super fancy cakes... I don't always do that.
There are hundreds (if not thousands) of websites with tutorials for easy ways to decorate a cake and still have it turn out beautiful. Do an ombre cake, a roses cake (click here to see how to make them two colors), or even a rustic buttercream with an added toy topper and you're good to go!
Not a baker? Use a doctored cake mix recipe. Here are my most popular ones: vanilla cake, chocolate cake, white almond sour cream cake... click here for more!
Jessica at Life as Mom also has some fun posts up for DIY Birthday Cakes... she's been making her own for years (and she's not a "cake decorator") and her cakes are always fun and cute!
Want something even easier? Do cupcakes. You can watch this video to learn how to decorate cupcakes like a pro!
2. Keep the decorations simple. While it's nice to have really fancy decorations with matching table clothes and a custom birthday banner... it's not necessary. In fact, I almost never decorate anymore other than blowing up a couple of bags of solid colored balloons to match the theme. Little kids especially get more entertainment from the balloons than anything else and at the end of the day, you don't have a ton of expensive decorations to toss out.
3. Don't buy themed paper products. I never, ever buy plates and cups and napkins to match the theme. My favorite thing to do is hit up a dollar store (like Dollar Tree) for solid colored plates and napkins and cups that match the theme. Red for Elmo, Blues for Frozen, Green for Teenage Mutant Ninja Turtles... you get the idea! The plain solid colors are pennies on the dollar cheaper than the character or licensed paper goods!
Don't wanna go to the store? Check out Birthday Express where you can also get solid colored paper products! Birthday in a Box is another great online resource for inexpensive party supplies that come in solid colors or generic designs!
4. Have the party at home or at a park. While I know it's way more thrilling to have a skating party or bowling party or video game party... you can save hundreds by just staying home or reserving a pavilion at a local park. Probably 95% of my kids parties have been at home and they're just as happy to have all their friends at the house as they were when I shucked out a couple of hundred bucks to take 15 kids bowling.
5. Print the invitations yourself or even better - send invitations via social media, texting, or email. I know custom invitations can really be beautiful and personal, but they're also expensive and at the end of the day, they're in the trash. My favorite way recently to invite peeps to parties is to create an "event" on Facebook since almost all of our family and friends are on there. If you'd still prefer to mail an invitation, print them yourself from a free template online or buy a custom design on Etsy and print them yourself.
Tell me, tell me... how do YOU save on your kids birthday parties? Do you have other tips that I didn't mentions? I'd love for you to leave me a comment!
PS. If you're not already subscribed to my blog, would you? You can sign up here for my free email updates by clicking HERE and then you'll never miss a cake or dessert or deal or any other quirky thing I choose to post here! 🙂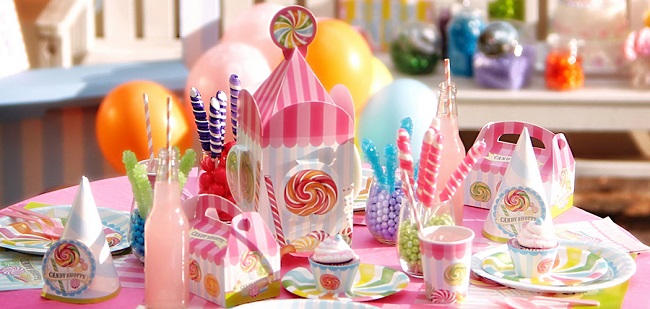 PIN THIS: